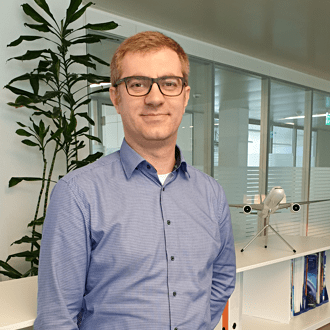 Emanuel
AMOS Senior Support Specialist – Training, Technical Documentation & Support
Emanuel is an AMOS Support Specialist at Swiss-AS. After he finished his studies in Computer Science, he worked for a Romanian airline where he encountered AMOS for the 1st time. When he joined Swiss-AS five years ago, he was already an AMOS expert, which paved his way into the position of AMOS Support Specialist.
"In our team, our main task is to assist the AMOS Community in getting the best usage of AMOS, to answer their questions and requests via the AMOS Support Tool. We are a customer-centric department and our main goal is of course to maintain a high customer satisfaction," states Emanuel.
The Support team, being mainly based in Basel, Switzerland, acts as 2nd level support for all incoming new support cases and is backed-up by the R&D department who performs the 3rd level support. The initial 1st level support is covered by the customer's internal AMOS Competence Centers.
Emanuel explains: "While the continuous further development of AMOS makes our job very interesting, this is at the same time also the challenge we face as we have to keep up with the constant changes of the software. My main motivation is to find solutions for complex support cases and of course to keep our customers happy."