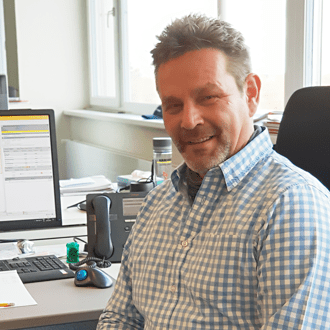 Siggi
Senior Business Trainer – Training, Technical Documentation & Support
Siggi is a Senior Business Trainer at Swiss AviationSoftware. He holds a graduate degree in education and has been with Swiss-AS since 2005.
As a Senior Business Trainer, Siggi not only organises and manages AMOS training for our worldwide customer base, but also coaches other Software Trainers and Business Trainers to further develop their knowledge.
Our trainers perform classroom training, personalised on-the-job training, go-live support and virtual classroom training. Usually Swiss-AS trainers prepare for their sessions in the Basel office and then travel to the customer's site for one or two weeks to teach various topics.
Training spans over all AMOS user groups, i.e. end-users, key users, application managers and system administrators. As a trainer, you also need a good general business knowledge as you deal with employees from various specialist divisions, e.g. Maintenance, Finance, HR, etc.
For Siggi the appeal of his job is to travel and to teach people from different countries and cultures all around the world. No day is like the other, as you never know to which countries and customers the next months will take you, which type of trainings or subjects you will need to perform or which people you will meet.
"You need a certain love of adventure, must be able to quickly adapt to new situations and to remain flexible, while always maintaining the Swiss quality standards that are expected from our company", explains Siggi.