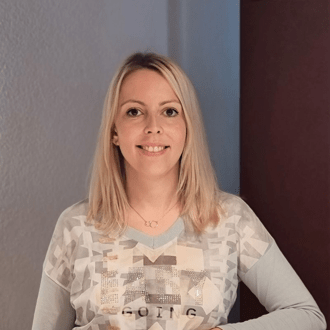 Laurence
Senior Marketing & Sales Coordinator – Marketing
After obtaining her University Technical Degree in Marketing Techniques, Laurence worked in the airfreight industry and was responsible for business development and taking care of customer enquiries. Her role allowed her to develop a strong sense of customer service while gaining the aptitude to work very efficiently in a fast-changing and highly competitive industry.

In 2015, Laurence joined us as Marketing Coordinator. She recalls, "I decided to join Swiss-AS because I saw a great opportunity to continue working for a renowned airline group, in a very heterogeneous role that combines my preferred professional fields with additional marketing communication focused tasks."

In 2021, Laurence was promoted to Senior Marketing & Sales Coordinator. She currently assumes responsibilities such as coordinating all sales activities of the APAC and MEA region, organising the company's social media communications and content creation, as well as performing internal administrative tasks such as controlling customer accounts or ensuring smooth internal communication flows.

The Marketing & Sales Department, reinforced by legal resources, is responsible for the representation, advertising and selling of AMOS. The team of seven experts covers a wide range of activities, from maintaining all existing communication channels to the creation of advertising content and material, from nurturing sales leads to elaborating offers and then to negotiating and signing contracts, from responding to existing customer requests to handling back-office tasks.

The team is composed of people of four different nationalities, with various professional backgrounds and skills, which always allows for learning from each other. While each team member has their own specialities and strengths, everybody is competent in each domain and thus able to support a colleague. "Due to the strong sense of collaboration combined with our friendly and trustful communication, I enjoy my job within this group of people. On top, I can identify well with the company and I love being able to market an excellent product with a worldwide recognition. Today, I can definitely state that I'm proud to be part of the Swiss-AS family!" concludes Laurence.