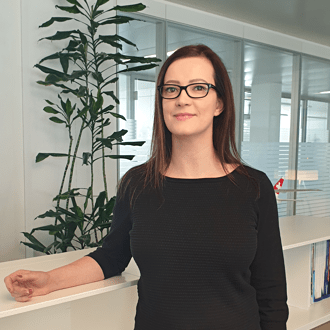 Michelle
System Specialist – Operational Services
Michelle is a System Specialist at Swiss Aviation Software Ltd. She works in the Professional Services team where she takes care of the AMOS Operation Service (AOS) and other paid services.
Michelle joined Swiss-AS eight years ago, when she had finished here Bachelor Degree in Computer Science and moved from Great Britain to the Basel area.
"In our team we are responsible for providing our customers with reliable optimised AMOS environment. With AOS, customers can outsource all their duties arising from the AMOS application server and database administration to Swiss-AS, ensuring a smooth running and dependable system.
The services we can deliver to our customers, include Server Audits, provide recommendations on the specification of the host server, install AMOS and the underlying DBMS, upgrade AMOS, monitor the system including database backups, reconfigure and maintain the servers, restore test servers with productive data and much more" explains Michelle.
During the yearly customer survey, AOS regularly receives top grades from the AMOS Customer Community.
"Aviation was always fascinating for me and back then, when I had my job interview in an office overlooking the maintenance hangars, I was convinced," jokes Michelle and adds proudly "Our job comes with a big responsibility as customers fully rely on our service and expertise – a system that is down could easily cause an AOG. From company side we have the freedom to take decisions and are trusted in our actions and skills."