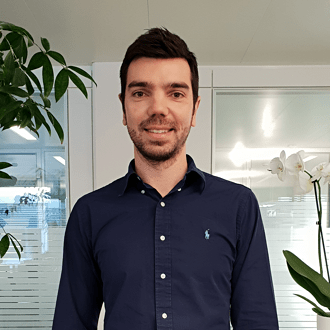 Emmanuel
Team Leader Performance Engineer – Operational Services
Emmanuel completed a master degree in computing science and business management. Attracted by the reputation of Swiss AviationSoftware as one of the industry market leaders and as an excellent employer, he joined Swiss-AS in 2011 as a Software Engineer. Then, in 2016 Emmanuel gave a new turn to his career and started working as a Performance Engineer.
In his current role and together with his two other colleagues, Emmanuel is responsible for application performance analysis and improvement. This requires a strong collaboration with customers and Swiss-AS software engineering teams as well as a wide knowledge across various technologies. Emmanuel acts as an expert in developments projects with the objective to secure the application performance while new functionalities are being implemented. Additionally, Emmanuel is responsible for the definition of benchmarking, monitoring and troubleshooting applications that help Swiss-AS to better support its customers. Furthermore, Emmanuel is used to visiting customers around the world to support them in the optimization of AMOS operation.
"I like the multi-cultural and friendly atmosphere that remains at Swiss-AS even while the company is growing fast. We have the opportunity to grow within the company or adjust our career according to our aspirations. And of course I am very proud of our success!" says Emmanuel.
This year (2019), Swiss-AS will dedicate investment in manpower and organizational adjustments: the workforce will increase by around 30%, affecting most Swiss-AS departments.

Emmanuel have been promoted in April 2019 as a Team leader of Performance Engineering.