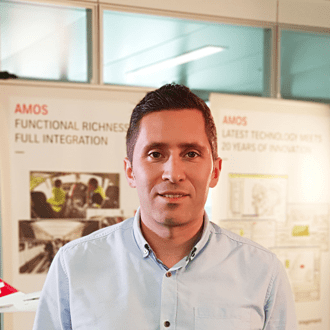 José
Senior Software Engineer – R&D
José is a Senior Software Engineer in the AMOS interface team. He is now 7 years with Swiss-AS and has become an interface expert. José's professional background is a Master in Information Technologies; afterwards he gained experience in various industries.
"After having worked in different companies, I think it's the human aspects that make Swiss-AS stand out. I like the international "ecosystem" of the company, the flat hierarchies with a CEO that lives the open-door-policy just like everyone else does. The company give us room to attend AMOS go-lives at the customers, which provides us with an insight into the usage of the software in live operation," says José.
The AMOS interface team within the R&D department takes care that our customers can easily integrate AMOS into their system landscape. Such integration is of major importance in view of avoidance of error sources, increase of productivity and to overcome departmental boundaries. "For interfaces, we use all transportation technologies and encryptions. Everything is possible from flat files over direct database access to XML based interfaces. Regarding AMOScentral, we rely on the OSGi framework. Our general development methodology is agile and in the planning poker we found the best approach for us for the biweekly iterations," explains José.
Since February 2020 José has been working as Team Leader Business Integration.