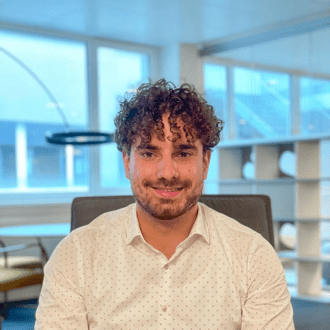 Fabio
Business Administrator – Finance & Administration
Meet Fabio, Business Administrator at Swiss-AS.
 
Having obtained a Swiss commercial apprenticeship diploma and Berufsmatura (vocational baccalaureate) and after having gained several years of professional experience, Fabio then went on to complete a Bachelor of Science in Business Administration on a part-time basis while working at Swiss-AS as Business Administrator in the Finance & Administration team.
An interesting factoid, Fabio was the 200th employee of Swiss-AS when he joined us in May 2019!
"By combining my job with my studies, I am always able to keep up with state of the art developments and working methods. It offers me an ideal basis to immediately apply the knowledge I have acquired to every day working situations. I started my studies and my job with Swiss-AS at the same time, and have always received the full support of Swiss-AS."
 
Working in the Administration & Finance team for 70% of the time, Fabio is the first point of contact for Swiss-AS employees, as well as for external visitors. Additionally, he closely works with the Human Resources department on staff and time management, employee on-boarding processes, organisation of Swiss-AS Welcome Day's, application of Swiss working permits and the creation of other HR related documents.

Together with his colleagues from the Administration & Finance team, Fabio coordinates all activities related to Facility Management and Occupational Safety & Health (OSH). The team is currently also managing the relocation to our brand new offices and meeting spaces, which will be opened very soon. The Administration & Finance team is responsible for duty travel organisation, expense management, enterprise risk management and finance, just to mention a few additional task areas.
 
"The Admin & Finance team offers a wide range of tasks. Since I started working at Swiss-AS, I have gained a lot of experience and a variety of valuable insights. Every day I can learn something new and further grow in my role". In addition to the development opportunities, the agile and flexible working methods offered by Swiss-AS, Fabio enjoys being able to organise squash sessions with other colleagues, which allows networking and meeting new people.
To conclude, Fabio states: "People care about me and my professional growth. I really feel the 'Swiss-AS family spirit' and the friendly and open-minded environment."